My Red 84 Corvette Vin#104405
Hi, My name is Steve. I live in Reynoldsburg, OH. I purchased this 1984 Corvette at an auto auction this past November, 2000. It had 61,000 miles when I purchased it. It now has 69,000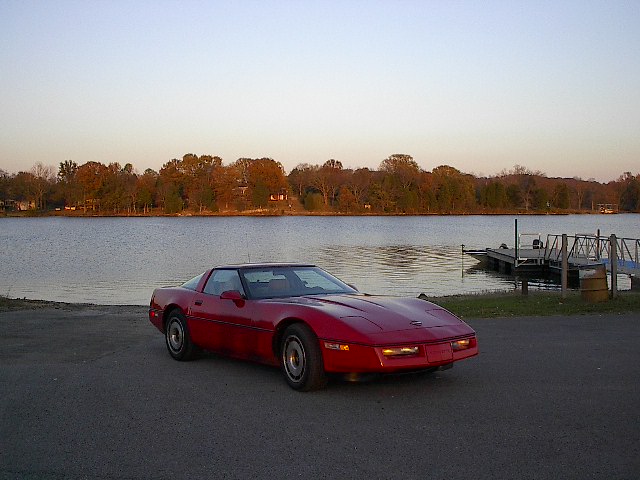 Corvette Trials and Tribulations
Buying my Corvette at a standard auto auction, I didn't know what I was going to get. I am no car expert, but did look at it up and down for over an hour. I looked at the tires and they were really in good shape. The paint appeared to be good although I could tell it had been repainted. The interior seemed good, and it sounded like it ran well. The only thing I could see was that it needed a new exhaust system. After I had it a couple of months, the only repairs I had to make were the exhaust, brakes needed replaced. The problems I still have to correct are sticky steering in the mornings. The dealer tells me the whole rack and pinion steering needs replaced. I felt very fortunate to have such a good car from an auction.

There was one failure that really set me back. The thermostat stuck without my knowledge. I was sitting at a stoplight and some guy pulls up beside me and says "Man you have antifreeze just pouring all over the place." I looked at my temp guage and it was reading 285 degrees F. Needless to say I was shocked. There was no steam coming from the engine or anything. I then made the mistake of driving it an additional half mile. To make a long story short, I ended up cracking one of the heads and had to have it replaced and the other one was warped. Seven weeks and later, I had my car back, with AC repaired also. Although I am upset I had to put an unexpected into the engine, I still love this car and have no regrets on buying it.

My Corvette on a Trip to Tennessee
November 2000